Butch It Up productions went into overdrive Friday night and Saturday, knitting up a storm in order to finish Ruby and Fiona's 6 month birthday presents. They were supposed to be "Happy Being Born" presents, but obviously, I need a harder deadline than my friend delivering her babies.

And so this is why I haven't been blogging.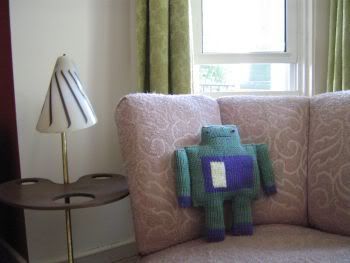 When I mentioned to David that I was knitting robots, he mentioned that he'd just finished a book called How to Survive a Robot Uprising. I requested it from the library, and it's come in, so I'll get to read it on my holidays.

But I do believe the ability to knit a robot is a good start. If all else fails, I can offer to knit robot cozies to keep them warm while they revolt.